Welcome to Student Brass, a free resource for teachers and beginner brass players. Our aim is to make it easier and more enjoyable for beginners to practise in a clearly structured way, which will motivate them, and help them measure their own progress as they work towards Grade One. In our experience, children (and adults!) enjoy using the site, and progress faster when they start practising with it.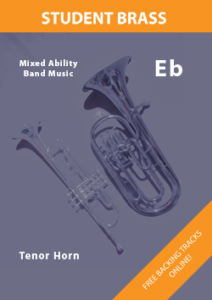 A Student Brass Practice Book is now available, featuring all the material on this website, plus a fingering guide and practice diary. It can be used on its own, or, ideally, the backing tracks can be played from the website, while the exercises are read from the page.
There are also two band books, intended for teachers to use with mixed ability groups, enabling students with Bb and Eb instruments to play together. These make it easy to create instant arrangements, rather than having all your students playing in unison.
All the books are available on our Books page. If you would like to buy in bulk (quantities of 10 or more), please get in touch to arrange a teacher's discount.
Please bear in mind that we provide practice and support materials, but not actual lessons.
There are a number of videos on this site, but you should be aware that a lot of schools in the UK block YouTube from their wifi, so you may not be able to use these videos in the classroom.